42″ Touchscreen Digital Signage Kiosk
Stand out in a crowd with immersive content presented at human height.
Human-Height Concierge
Standing between 5 and 6 feet tall, the illuminated screen and
glossy metal finish create the perfect signal to draw in audiences.
Tell Your Brand Stroy
Coupled with engaging interactive content and branded surfaces,
our network-ready kiosks create a memorable, focused experience.
Designed For Your Space
With a human-size format, the T10 Large Display provides an
interaction platform that can captivate and attract users in even
the most crowded places.
Features Include: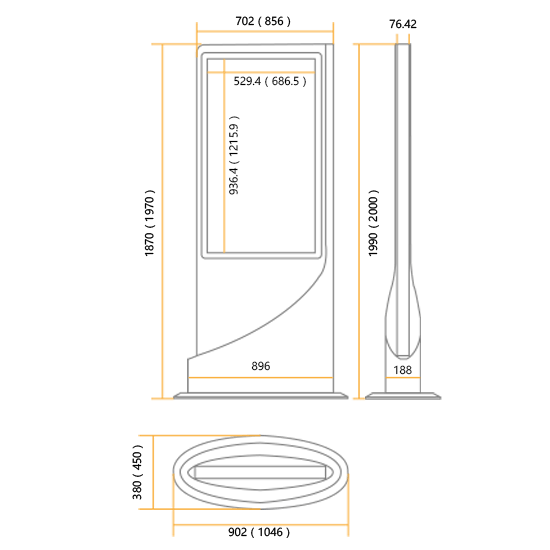 The weather forecast navigation
Rolling advertising picture
HD video & Advertisements display
Face Recognition & Face Welcome System
Automatic products recommendation
Data collection and analysis
Security Locks
Stereo Speakers
Cooling hole design, ensure the longer using time
Display:
42″ LED Supports 1080P High Definition
1920 x 1080 Resolution
"16:9 Aspect Ratio
Power:
15 AMP Maximum Draw
World Power Kit Option Available
Base Model Include:
Durable Power Coated Steel Enclosure
Cooling hole design, ensure the longer using time
Built-in 3G/4G wireless wifi, fit for most network
Customizable sockets, suitable for all the market
International brand LED panel , higher brightness, better power saving
Industrial-grade metal case design,Durable and anti-interference ability
Touch Screen Interface

Windows 7 Home/Pro PC
Software functio
 Wi-Fi or Cellular Connectivity with External Antenna
Authorized and stable operation system, Android or Windows
1-Year Limited on Kiosk Enclosure
1-Year Limited on EBAYAR Supplied Electronics
Extended Warranty Options Available